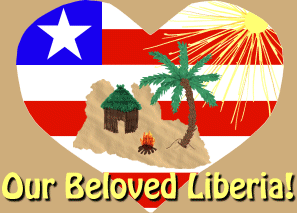 As a child I used to live in Liberia, West Africa (1971 - 1980). What a great place to grow up! My family and I lived in Yekepa, close to the border to both Ivory Coast and Guinea. My parents worked for Lamco, an American/Swedish mining company, which were operating both in Yekepa and Buchanan. They were both very small communities, everyone knew everyone, more or less.

I attended Lamco International School, Yekepa for 9 years. In Yekepa we had a supermarket, a tennis court, a golf course, a youth club, a horse riding club and a swimming pool (of course also the community center, the police station, hospital, pubs, discos etc.). Close to the swimming pool was a water tower, approx. 50 m high. Oh, how we kids used to love to climb this tower all the way to the top at night (without our parents knowing of course). I still have nightmares about what COULD have happened. The youth club was close to the swimming pool, and we also took illegal baths in the dark of night.

My parents used to play golf, and while they were playing we kids hung around the club house, and I can't remember ever being bored. We climbed trees, went in to the bush looking for lost golf balls, or made small "huts" in the bush. It was a little village not far from the club house, only 5 minutes to walk down a narrow path. There we could buy sugar canes for only 10 cents. I will never forget the taste of this wonderful "fruit". The chewing and the spitting, a feeling think I will never experience again in my life. The bush around the golf course was really dense (a typical tropical forest) and it was really close to the border to Guinea (only a few metres), and it was not allowed to cross the border, imagine the tension! How could we ever get enough of these "exploring possibilities"?

I have the impression that we who lived in Lamco during these years feel very bound together. We experienced something special together that is very difficult for other people to understand. This goes to both my parents generation and mine. When it comes to my parents generation they had a lot of parties and come togethers. I am not sure if it's because of the Swedish majority in the Lamco, and the Swedish tradition to sing "snaps visor" in parties, but I do remember the singing, and have not experienced it in the same way since leaving Liberia. I have asked Tina Bergman to write down some of the "songs" that they sang and here are the results: Snaps Visor. Sorry, they are only in Swedish. Please send me more songs if you remember any!

The reason why I wouldn't want to change my adolescence with any one else, is that I felt we had so much FREEDOM. This is probably because our parents were assured that there were no where we could get lost in Yekepa, to get out of there we had to take the train to Buchanan. I am still not sure how they got tickets for this train, I never felt the urge to find out... I was happy where I was.

I wish I could go back to Liberia one day, if for nothing else just to show my children where I grew up. However Liberia have had this terrible civil war for many years. Lamco doesn't exist anymore and the communities Yekepa and Buchanan are irrecognizable. The war is over and yet it has not even started for me, because the truth is that until I go back to Liberia I will never fully realize what has happened to my home and how much suffering the people went through - and still are going through.

I try to keep up-to-date with News on Liberia, and to my surprise and shock I came across this article today (25.4.2008), sent to me by Lars McCritty: http://news.bbc.co.uk/2/hi/africa/7360649.stm. I remember how easy it was to grow anything in the Liberian fertile soil, therefore I wish we could all give a-little-something to help Liberian farmers make their own rice. If there is someone out there who could help me set up some kind of VISA or Credit card account/link, to make it possible for all us fellow "Liberians" donate something for this good cause, please email me!
Email me (Heidi Samnøen Aguilera) at: heidis @ lyse.net (remove the spaces!), but I hope you have patience with me, because I don't have time to answer all emails.